Wednesday, December 14, 2011
Today was a semi-regular work day (although I was afforded the luxury of coming in early to leave early). Kris and I had to be at the DFW airport by 5pm with luggage for our flight to New Zealand.
Leg 1 = DFW to LAX (3.5 hours) on American ~rain caused a delay on the tarmac making it more like a 4 hour flight
Leg 2 = 2 hour layover in the Los Angeles airport (not required to recheck bags, but, since LAX is an older airport, we had to go through security again whenever we transferred to the international terminal)
Leg 3 = LAX to AKL (13 hours) on Air New Zealand
Air New Zealand is really nice. The coach seats were rather spacious, the flight crew were fun, the safety video was quirky and equipped with Richard Simmons and people in painted on latex outfits, and the meals were actually yummy. I think both Kris and I would choose the chicken macaroni and cheese we were served again. The inflight seat entertainment was fantastic, and I was able to see both
Larry Crowne
and
Friends with Benefits
. Oh yeah...did I mention that my bag only weighed 22 lbs?
On to the time travel...
Due to the time of day, time changes, and international date line, we left the USA on Dec. 14th, but we arrived in New Zealand on Dec. 16th. We didn't see the 15th of December and will never get a 12/15/2011. We essentially traveled forward in time. Crazy, right?!?
So we are time travelers who drive a Spaceship! (But that's a story for later.)
Friday, December 16, 2011
Today we traveled by plane, bus, train, Spaceship, and ferry or, as I like to think of it, by air, by land, and by sea.
After landing in Auckland, we did the normal customs who-ha. Then we were off to catch the 380 bus to Papatoetoe Train Station. From there, we caught the train to the Penrose Station, and then we trekked a half a mile to the Space Station to meet Rhesus, our spaceship. After getting a good introduction to our new-in-the-fleet spaceship, we were off.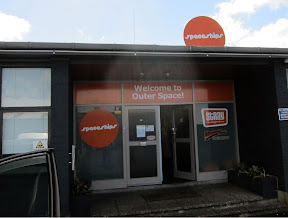 Kris mastered driving on the left like a pro (but he kept turning on the windshield wipers instead of the blinker). We went to a grocery store to stock up on provisions. We wound up in a really neat Asian shopping village. After stocking up on Tim Tams and other fine treats (and being horrified at the cost of Diet Coke...$18 for a 12 pack) we were off to our hotel.
The Auckland Takapuna Oaks Bayswater is the hotel we booked. In addition to having free wifi, breakfast, and parking, the hotel also has phenomenal views, a separate bedroom, lots of space, a kitchen, washer/dryer, and a walk-out patio.
They give you a free round-trip ticket to travel on the ferry to Auckland city proper. It was an easy five minute walk to the ferry and a pleasant boat ride over to the Ferry Building.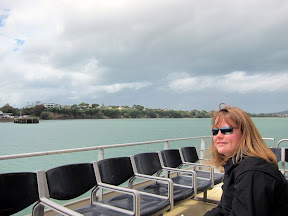 We walked around Auckland gazing up to see the Skytower.
We explored the city, visited the mall, saw many celebrating graduates, and climbed to a park on a hill overlooking the city.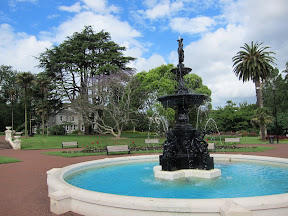 We split a pizza at a downtown cafe before hitting up The Warehouse, a supercenter with not so stellar prices.
Then it was back on the ferry to the hotel for a relaxing shower and sleep.
I would recommend the hotel to anyone.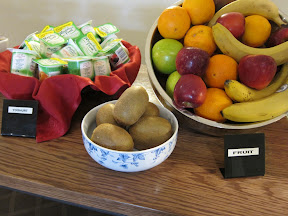 - Posted using BlogPress from my iPad