Saturday, December 24, 2011
Kiwi really is a very tasty fruit. We had some for breakfast along with chocolate chip banana muffins we'd picked up in Richmond.
We had a gorgeous coastal drive today. We stopped often at scenic overlooks and for short walks.
We saw some strange plants (or plants covered in some kind of web).
Weka birds who like to forage for bugs in the grill of cars.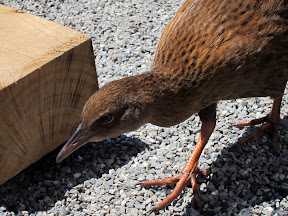 And people who can't read.
We made sure to have a longer stop at Wall Island and the Cape Foulwind Seal Colony off the Southern Ocean.
We saw some people posing with Santa hats in the ocean. They let me borrow a hat for a quick shot.
The black sand beach shimmered with flecks of gold and silver in the sand. It was beyond beautiful with the gorgeous blue skies and water. There were seashells of colors I had never seen before too, and the water left on the sand reflected images so crisply.
To celebrate Christmas Eve, Kris built a sandman on the beach.
We continued on from the Seal Colony to Pancake Rocks stopping at other overlooks along the way.
At the Pancake Rocks, we stopped at the gift store for some ice cream. I had a Hokey Pokey Trumpet (quite similar to a drumstick but with better ice cream and filled within with caramel). Kris got a jelly tip ice cream.
The Pancake Rocks were so very unique. They were made in layer of rock. So neat and strange!
The Pancake Rocks Blowhole was super to see.
Tonight's stay is at the Shining Star Holiday Park in Hokitika. The lot is nice and right near the beach. Kris and I walked down for sunset shots.
Later on, Kris went out to the beach to photograph the stars while I spent time with a kitty in the tv room.
We discovered that the sand out here is magnetic...it stuck to my tripod legs. It is called ironsand and contains titanium.
The kitchen has pots, pans, silverware, and etc. here, but the freezer is broken, the fridges don't cool well, and only a few of the burners work. The TV room is really nice though.
I seem to have gotten a bad sunburn. That doesn't happen often on Christmas Eve.
- Posted using BlogPress from my iPad
Labels: blog, Cape Foulwind, Hokitika, New Zealand, Oceania, Pancake Rocks, South Island, Spaceship, travel, trip, vacation