Saturday, December 17, 2011
The hotel offered a simple free continental breakfast in the morning, and I was able to have some fresh and lovely kiwi. It really is a spectacularly tasty fruit. We packed up Rhesus, our Spaceship, and headed to Russell in the Bay of Islands.
Along the way to Russell, we stopped at a very strange eatery called Eutopia...we just couldn't resist it when viewing it from the road.
Eutopia turned out to be an organic cafe. Kris got an awesome cappuccino with a ham, cheese, and mushroom toastie, and I got an egg, tomato, cheese, hummus, carrot, and field greens sandwich. Yup...they put all of that
on one sandwich
. I like all of those things separately, and, while the sandwich was okay, I wouldn't choose to meld them all together again.
Regardless, the ambiance made this place worth stopping for. The nooks and crannies were filled with hidden surprises like a bird's nest with baby birds. Crazy!
We stopped for impromptu photos several times along the way and even stopped to swing from a tree at a beach.
Needless to say, our 3.5 hour drive took us more like 5.5 hours. We arrived at the Russell Top 10 Holiday Park at about 4pm. The GPS made sure to amuse us along the way calling all bypasses "Bits Per Second" due to being abbreviated bps.
I'm the first to admit that I don't know much about campsites. Camping as a child in Texas, we stayed in tents or a pop-up trailer (if we were lucky) and had a place nearby with semi-clean toilets and cold water showers. Back then I felt like I could get clean in the lake...it was before personal hygiene was a priority. So I am not an authority figure when I say I was quite pleased with the Russell Top 10 Holiday Park. Immaculately clean campgrounds, a nice gas grilling area, a great kitchen with microwaves, ovens, and stovetops, laundry, and clean bathrooms. You have to pay 50 cents for 6 minutes of hot water in the showers, but, if you use the sink to wash your face and brush your teeth, the 6 minutes really is plenty of time. (I am quite grateful that I brought a 2-in-1 shampoo and conditioner.) They even had a hairdryer in the ladies bathroom area and trampoline amusements for children.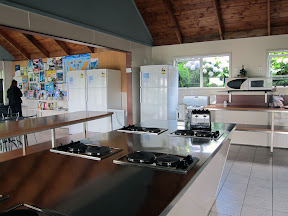 After parking and getting situated, we headed to town. Russell is a really cute, small town with plenty of tours to choose from.
We explored the town and went to the information center to choose a tour for the next day.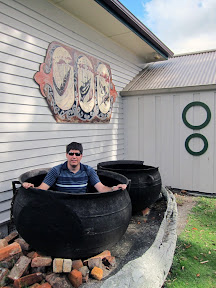 The lady convinced us to go on a new tour, Tay and Rudy's Night Safari, with a boat ride and kayak to a massive waterfall. Taylor and Ruby, a really personable young couple, run this tour from Paihia. We hurriedly grabbed microwaveable meals, scarfed them down, and then caught the ferry to Paihia for the tour. Taylor drives a boat called Night Rider, and we went on this tour on only their third week of operation.
All of the people on this tour were New Zealand natives, which afforded us the luxury of getting to learn a lot about the kiwi culture...and to educate them about Texas and the USA. Cowboy misconception dispelled! There were two young men on vacation from high school, a young lady with her two young sons, Rudy, and Taylor. The boat ride had good music, great commentary from Taylor about the local area and legends, the grandest double rainbow I've ever seen in my life, and a great destination. Taylor lets everyone off and into tandem kayaks at a certain point and you row yourself down the inlet into the waterfall...and I mean
into
the waterfall.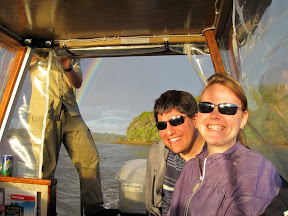 Not only did Kris and I go into the waterfall, we fell into the water.
Then we had to get back into the kayaks...not the easiest feat in the world. After, we went back into the waterfall for another try. It was rather majestic to see, and the trip was quite the adrenaline rush. On the ride back, we were all treated to a cup of warm mushroom soup. It was a great trip (although we were freezing after getting off of the boat to wait for the ferry), and I hope Tay and Ruby have much success.
We were able to walk around Paihia for a while before catching the ferry. Drenched and walking around town at night leads for some interesting conversations. "You haven't been for a swim, have you?"
On the 10:30pm ferry ride back to Russell, we were entertained by a completely sloshed Lance Armstrong fan with a New Zealand All Blacks tattoo on his scalp. He told us about how he wanted to go to Texas since it was where Lance Armstrong was born and how his favorite artist was a man who only got to record one album in his short lifespan...but it was epic. Then he told us the drug policies of New Zealand (apparently cops look the other way). Quite an interesting fellow.
When the ferry arrived back, we walked to our campsite (less than a 10 minute walk), set up the Spaceship for sleeping (in the dark), showered, and called it a night.
Sunday, December 18, 2011
Today we needed an easy day. We lazied around for the morning, reorganizing Rhesus, readying ourselves, having a leisurely breakfast and hanging with some ducks, and then we headed into town.
We walked around and poked about in a few shops before finally deciding to go on the Explore New Zealand Dolphin Discoveries trip to the Hole in the Rock, Cathedral Cove, and Otehei Bay on the Department of Conservation's Urupukapuka Island.
After buying tickets, we waited for our tour to begin and had lunch by the beach. Kris had a mincemeat pie, and I had a jacket potato. What a relaxing day!
On our Dolphin Discoveries trip, we got to see some bottlenose dolphin pods, several islands of the Bay of Islands, and some gorgeous scenery.
We drove through the Hole in the Rock and saw Cathedral Cove. We also got to see an old lighthouse functioning since 1909. It rained on us for part of the trip, but it didn't ruin our time.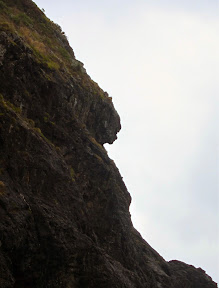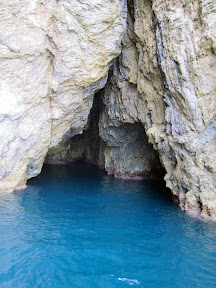 The boat we were on was really smooth and quiet with plenty of onboard space, and the hour-long stopover made the trip for me.
The scenery was breathtaking, and, for parts, we were the only people around. (You could say Kris and I took the path less taken when we went to the archaeological site instead of the beach. Lucky for us! It was just us, sheep, and astonishing scenery.)
On the ride back, we had incredible seats with much clearer skies.
Lovely day and the boat was large enough and smooth enough that I didn't have any issues with seasickness. Hooray!
After our trip, we grabbed hamburger patties from the store and grilled them at the campsite. We also had good conversations with another Spaceship driver from the Netherlands who wanted to trade DVDs (it really happened!) and a lady from England. Both were on year-long+ holidays after graduating.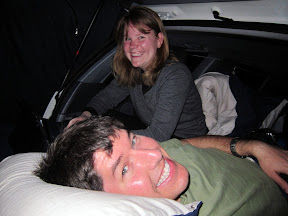 It's raining as I type this now in the back end of the Spaceship. Soothing sounds and Rhesus is keeping us nice and dry.
- Posted using BlogPress from my iPad
Labels: Auckland, Bay of Islands, blog, New Zealand, North Island, Oceania, Paihia, Russell, Spaceship, travel, trip, vacation