Thursday, December 22, 2011
We woke up with a long drive ahead of us to Wellington. We went along Lake Taupo for a gorgeous scenic lake drive.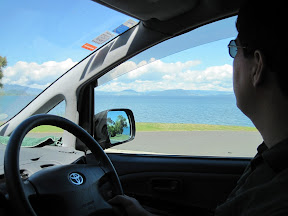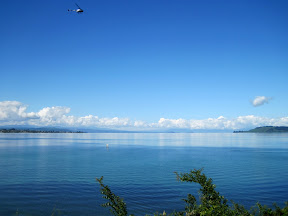 Next up, we drove through the Tongariro National Park (World Heritage Site) looking for wild kiwis.
Today was all about the drive, and it was something. We were able to get a great view of Mount Ruapehu from a distance.
We stopped at Ohakune at a cafe called Utopia for lunch, and then we drove the long mountain road up to Mount Ruapehu and the Mangawhero Falls.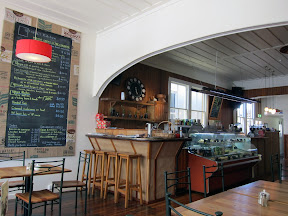 Ruapehu is actually a semi-active volcano and is used in the winter here as a ski lodge. The views were majestic. The road was scary.
The secondary battery of our Spaceship has stopped working. No more fridge for us. Not happy about that one, but we don't know what to do about it. There isn't a Spacestation nearby to help us.
We made it to our hotel, the Novotel Wellington, and had to valet park. Then we walked along down to the waterfront and explored the city. They have some great parks here in New Zealand. They also have a lot of public half pipes.
We ate dinner at Wagamama before going back to the hotel for the evening.
Friday, December 23, 2011
The morning came early, as we had to catch the Interislander Ferry today.
The hotel valet left us a note about our car. (Rather uncalled for, eh?)
We paid extra for the lounge so we could have internet, breakfast, cushy seating, and unlimited beverages for the four hour crossing. After seeing how crowded the ferry was, I was really glad we paid extra for the lounge.
Breakfast was eggs, bacon, corncakes (made hash browns style), and toast. There were many beverage choices from juice, tea, coffee, milk, or soda, and later scones were offered.
We also had wifi, so we could post photos/blog posts.
After arriving in Picton, we headed on the the Queen Charlotte Drive. So picturesque!
When we got to Nelson, we went to the World of Wearable Art & Classic Cars. What a fascinating place! They had some really awesome old cars - like a DeLorean, and the wearable art outfits were outstanding or scary. Good fun!
We're off to Richmond Top 10 Holiday Park tonight. I can't believe we are in the South Island already! We aren't allowed to drink the water, and soda is so very expensive!
I am not a fan of this holiday park. It was clean, but the check in was rather curt. The lots are quite close together and the park seems very industrialized. There were a few of the typical kitchen amenities, and several nice bathroom showers with a hairdryer. There was also a tv room and small pool. There weren't amusements for children though, so they swarmed the tv room and played through the campsite. While trying to sleep, our neighbors decided to have a really loud meal. They were speaking really loudly to each other in Farsi. With the recent storms in Nelson, the water still hasn't been cleared to use. We had to boil all of our water for at least a minute before use. (Not the campsite's fault, but still a downer.) Considering this was one of our most expensive stays, I was rather disappointed in the park.
- Posted using BlogPress from my iPad