Wednesday, December 21, 2011
Rotorua is a geothermal hotbed of activity. In some places, it really appears that the town is on fire.
Our first stop was Wai-o-Tapu Thermal Wonderland to see the erupting Lady Knox geyser, craters, pools, boiling mud pools and other geothermic activity.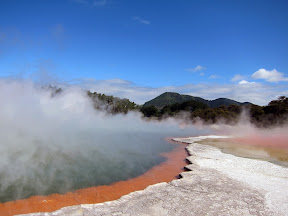 Devil's Pool and other areas of this park were beyond fascinating, and, as strange as it sounds, I thought the boiling mud to be oddly pretty. The area surely did stink though.
Next on the agenda was Zorbing at OGO Rotorua (the original creators of the zorb). Kris and I did the H20go together. Thanks to our combined weight, we picked up massive speed. The Jason's Rotorua black guidebook had a coupon for the photos and video for $10 NZD, and I took my waterproof camera inside the bubble. The other Spaceship driver we had met in the Bay of Islands had recommended them over the other company.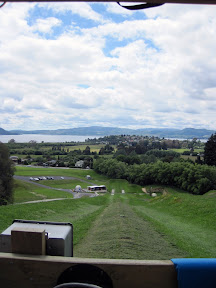 Like a true local, we decided to have lunch at a mall food court. At the Rotorua Mall, you don't clean off your own trays from the tables. They employ people to do that and to clean the tables.
The nice Dutch gentleman we met in the Bay of Islands recommended going to Paradise Valley Springs Wildlife Park, so we listened.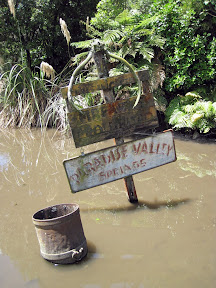 At the park, we got to pet two baby lion cubs, feed and pet wallabies, walk through lovely forested areas, drink from a stream where they actually bottle water, see spotted trout, and enjoy other wildlife.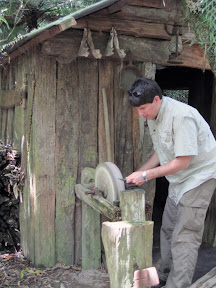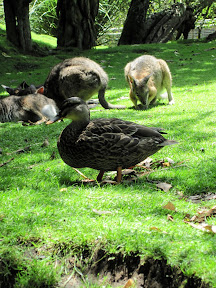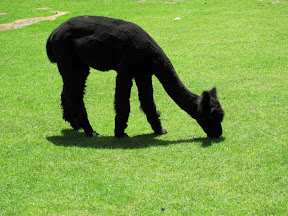 Butcher's Pool was our next impromptu location. When we pulled up we thought it was just a small community swimming pool, but it wasn't. It was a pool filled naturally with warm, geothermal water. You could see the water bubbling from within, and it was really quite warm. If it were cleaned, it would be a great place to go swimming.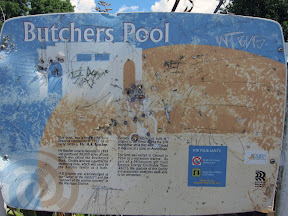 After leaving Butcher's Pool, we made it just in time to Aratiatia Rapids to see the waterfall before and after the dam release. After the operators release the dam water, water flows down the waterfall at up to 90,000 litres per second. (Make sure to look at the before and after shots below!)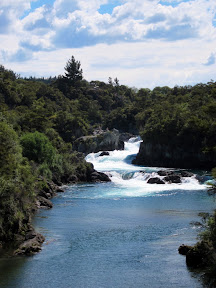 Huka Falls was next up on the agenda. This is a very impressive waterfall, and it has incredibly clear, blue, pretty water. The current at the bottom has been known to absorb those who ignore warning and try to conquer this waterfall.
Our stay this evening was at the Lake Taupo Top 10 Holiday Resort. This holiday park was huge. They give you a gate code you have to enter going in and out of the facility, and they have a lot of things for children to do. They have a mini store with food, soap, and etc. to purchase if you had forgotten anything. We got spaghetti sauce and paid $10 for 500 mb of Internet. The campgrounds had a block of gender neutral showers with free hot water and a bench, basket, and hook. The ladies and men's restrooms had hairdryers for use. We used the laundry facility ($4 for wash and soap and $3 for dry) and jumped on the impressive jumping pillow...the largest in New Zealand.
There was a basketball court, bocce area, playground, pool, and probably more that I am forgetting. The kitchen had a massive toaster, several burners, and a grill. The park also had an herb garden for guest use. We were able to pick and add fresh basil to our pasta.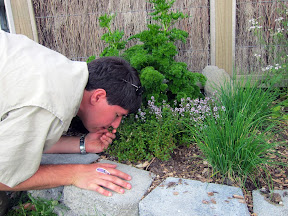 The spots were well sized, and, while the park was quite full, we didn't feel cramped. Wifi reception was spotty...sometimes you win some, sometimes you lose some. Regardless, Kris did some posting to Facebook.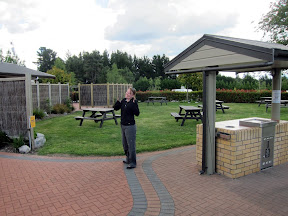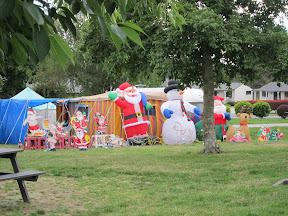 Our neighbors were in a neat VW I had to take this just for Marlene.
Here we are setting up the Spaceship...
- Posted using BlogPress from my iPad