Our Spaceship Trip through New Zealand - our journey through New Zealand in a campervan
Our trip commenced on the 14th of December 2011 from DFW, Texas. We headed over to LAX before getting onboard our aircraft to Auckland, New Zealand. We arrived in Auckland on the 16th of December. We never saw the 15th of December 2011 and never will. Time travel is strange.
To top it off, as soon as we landed, we went to pick up Rhesus, our Spaceship.
Kris and Rhesus
My thoughts on our Spaceship...
The Spaceship really is a clever vehicle. Small enough to be easily maneuverable yet large enough to sleep and store your supplies.
My husband was quoted with the following statement, "It would have been perfect if it had worked like it was supposed to."
Setting up the sleeping area was very easy...we even managed to do it for the first time in the dark. Since it was only the two of us, we didn't find it necessary to unmake and remake the bed daily. We would just push back the pillows and bring up the last foam pad. Because of this, after the first night, setting up the sleeping area only took us 5 minutes.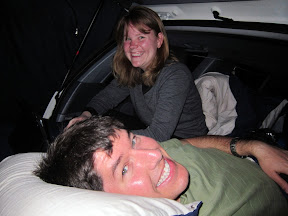 Kris and I cozy up in the back of the Spaceship.
There are little cubbyholes toward the back of the vehicle on both sides that were perfect for storing a bottle of water, earplugs, and warm socks. There was also an additional lighter outlet toward the back of the car.
For the first few days, we had zero problems with Rhesus, but then the secondary battery broke on us. Due to this, we didn't have a working fridge, DVD player, or secondary lights/charger. Thanks to the Christmas holidays, we didn't really have a choice but to keep using Rhesus without the second battery, as Spaceship offices were closing. We could have called AA, but we would have had to pay the call out fee of $100+. We decided to keep freezing bottles of water and treated the fridge like a cooler. Most of the campgrounds have fridge/freezers you can use if you label your stuff.
Before the secondary battery broke, the mini fridge was amazing to have use of. It could freeze things if you weren't careful. Great little contraption.
Kris and Rhesus at scenic overlook
It rained on us several evenings while we were sleeping in the Spaceship. We still had the back extended during these times, and, as long as we had the windows closed, we stayed perfectly dry.
The pillows provided were rather thin, so we wound up buying one pillow elsewhere and shoved the other two pillows into one pillowcase. It was a worthwhile investment...we slept quite well after the new pillow was purchased. We donated the new pillow to Rhesus when we were done.
Taking down the back tarp was super easy as well...less than 5 minutes and it was all packed up.
The steps of set-up. I may be oversimplifying, but it really just felt like 5 steps.
Step 1: Open back of Spaceship. Extend framing. Pull out support board.
Step 2: Secure 3rd mattress and pull sheets, blanket, and pillows in place.
The locking container at the back of the Spaceship was great for piece of mind. We didn't put our main luggage in it...just focused on our valuables, electronics, extra money, and passports. Honestly, the windows were so well-tinted that you would really have to look to see that there were bags in the vehicle. You can't tell when casually walking by.
One tip...while the back of the vehicle is opened for sleeping mode, there is only one effective way of locking the doors. You have to take the key to the drivers side door and put the key in the lock and twist. If you use the automatic locks or key fobs, it won't actually lock the car. It looks like it does, but you can open the driver's door anyway.
New Zealand needs road signs that say, "We know it's pretty, but look at the road."
We spent a lot of time one evening at the start of our trip setting up the side awning. It took a long time to figure out, and it didn't extend as outward as I expected. Even set up properly, it was precariously perched, and you couldn't fit the table and chairs underneath. We didn't find it worth our time and didn't use it again.
While the table and chairs were a nice touch, we found that most of the campsites we stayed at provided picnic tables. The table and chairs are probably wonderful to have during the height of the busy season, but we only needed them once. They were easy to store and set up. We kept the chairs in the locking bin and the table behind the driver's seat.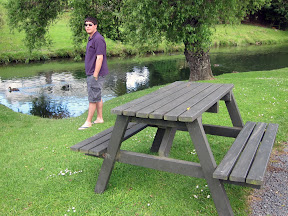 The cook burners seemed really easy to set up, but we tended to use the campground kitchens. We did get lots of use of the plates, cups, silverware, and cleaning supplies provided in the Spaceship. It would be even better if they put some generic spices (salt, pepper, sugar, etc.) in the car as well.
The water tub provided was incredibly useful...from providing water to drink, water to refill drinking bottles with, liquid for hand washing or teeth brushing...it was great. We were incredibly grateful to have it when we got to Nelson and the water had still not been cleared as safe from all of the flooding the week before. Everyone else had to boil their water for at least a minute (even to just wash dishes or brush their teeth) but we did not since we'd filled up our water tub in the North Island.
Driving a Spaceship almost becomes a pride thing. You are compelled to wave at all of the other Spaceships you drive past, the vehicles just catch your eye and you notice their names, and switching DVDs is fun too (even if we couldn't watch any).
Rhesus, Kristy, and Mt. Ruapehu
The ipod/mp3 cable is great, but, when plugged in, the sound had a lot of static in it. It was still nice to listen to our music, even if the sound was a bit tinny.
Overall, the Spaceship was great for the two of us (age 29 and 31). I never would have guessed it would actually be a comfortable abode for two weeks, but it absolutely was. We are seriously disappointed that the backup battery stopped working, but we enjoyed our trip. It handled well, counted as a car on the Interislander ferry from Wellington to Picton (10% discount for this if you purchase a Top 10 Holiday Card - which pays for the card and then you get discounts at all of the various Top 10 campsites and some other activities), and was very easy to set up and take down daily.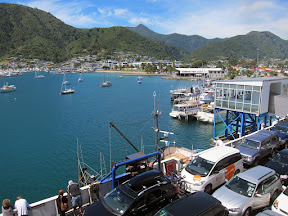 We worked out a very easy storage system and actually found living out of the Spaceship on camping days much easier than unloading the car for our three hotel/motel days.
I had been seriously worried about having a campervan without a toilet on board, but there are many rest-stops or gas stations in New Zealand with free facilities for use. Finding a toilet was never a problem...even on remote roads. And the more I thought about it, the more I realized that I wouldn't want to have to deal with waste disposal anyway.
So you don't waste money, remember that the Spaceship has been designed to not require a powered site...so, unless you rent the mains power unit, you can't use a powered site. Don't spend the extra money thinking you can use the power...you can't without the mains power plug.
There was a good amount of space given in the door sides and glove box, and there was another compartment above the glove box. We found these cubbies quite helpful.
The only improvements I can think of are: better pillows, salt/pepper, trash sack around the back of the passenger or drivers seat, start the trip off with at least a 1/2 tank of gas, and, if non-mechanical equipment (like the secondary battery) fails, offer at least a small refund since that is such a huge selling point for your company.
Ultimately, I would have another Spaceship trip around New Zealand in a heartbeat. I enjoyed it quite a bit.
The convenience of the concept can't be beaten.
Time travel complete.
Kristy (me) and Rhesus in the Bay of Islands Top 10 Holiday Park
*Disclaimer: I was given a slightly discounted rate to provide this review, but this has not clouded my judgement of the product in any way.
- Posted using BlogPress from my iPad
Labels: blog, New Zealand, North Island, Oceania, Review, South Island, Spaceship, Spaceships New Zealand, Spaceships Review, travel, trip, vacation