Wednesday, November 23, 2011
After a large breakfast of biscuits and cream gravy at the hotel, we headed out to Mission San Jose. (Have I mentioned that, for free breakfast at a hotel, our hotel is doing a darn fine job?)
Mission San José
Terri peeking out at Mission San José
Adam and Kris at Mission San José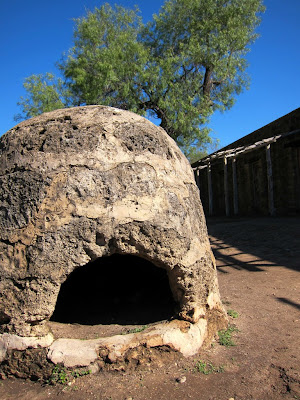 The things we do to make Terri smile.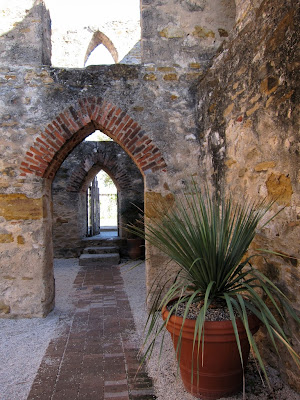 I found the old faded paintings at Mission San José fascinating.
Have I mentioned that we can be a bit culturally insensitive at times? If not, ignore the next photo.
Kris sacrifices Adam
I love this group shot of Terri, Wayland, and Adam. It looks like they like each other or something.
Adam, Wayland, and Terri pretend to enjoy each other
The mission had a replica map from the mid-1500s. Europe was well mapped, but Australia and New Zealand were merged with Antarctica, North America was quite disoriented, South America nearly merged with Antarctica (Terra Del Fuego), and there were crazy characters drawn all along the map.
Mission San Juan was next, but it was under construction so we went to Mission Concepcion. Mission Concepcion was smaller than San Jose but is considered the best preserved of the missions. Concepcion still functions as a church.
What Wayland does for a photo...
...and the photo he wanted.
The Guenther House is a San Antonio tradition, and we decided to go there for lunch. It has an immense history and was very nicely decorated. Lunch was really tasty.
Guenther House
Stained glass door at the Guenther House representing their trade.
After lunch, we checked out the old homes in the King William Historic District and went to an art museum/gallery.
This house was in need of repair, but the disrepair was what attracted me.
Since we had gotten a free second day at Sea World with our tickets the day before, we decided to go to Sea World again. Everyone rode all of the rides, including the water rides several times. We also saw the dolphin cove and shark exhibits this go around.
We had dinner at Tito's Mexican Food restaurant - also a San Antonio local favorite before heading out to the Always Christmas House.
It was a great last day in San Antonio.
Thursday, November 24, 2011
Happy Thanksgiving. We departed San Antonio today and headed to see Mamma in Fredericksburg. She wanted to have Thanksgiving at her local Cracker Barrel. While it was very tasty, the lines were atrocious. It took us over an hour and a half before we were even seated (and we got there at two in the afternoon!).
The wait at the Cracker Barrel was atrocious. We didn't get seated until nearly 4pm after arriving at 2.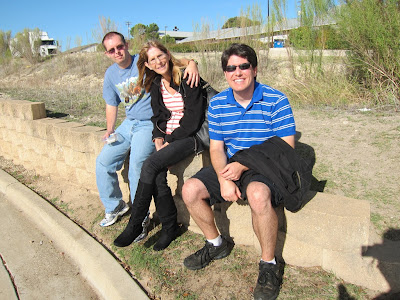 Our seat outside of the Cracker Barrel.
On the plus side, we discovered our own Roadside America attraction along the way.
Introducing Scrappy the Gear Deer...