Tuesday, November 22, 2011
Kris woke me up this morning by taking a photo of my strange cover habits...
I apparently pulled the covers off him just to cover my head.
Breakfast at the hotel was tasty and free and easily held us over while we got our bearings. It didn't take long before we were off to the Wooden Nickel Museum and the world's largest wooden nickel.
Kristy (me) with the world's largest wooden nickel.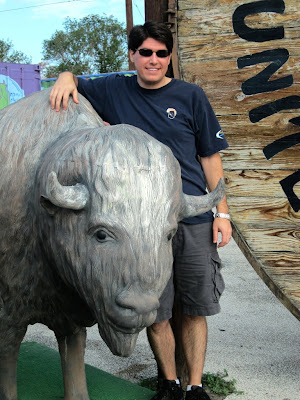 We didn't expect the collection to be so vast or have so many other items from the past inside. I love nostalgic free surprises! The wooden nickel museum held voodoo dolls, funny wooden nickels, wooden nickels of various sizes, and themed wooden nickels (political sayings, schools, restaurants, and far more).
An old ad telling women how to plump up!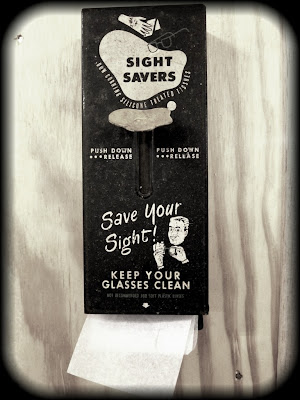 Wayland said his job used to have one of these.
They also had a bunch of old electronics, telephones, musical instruments, cameras, and other memorabilia.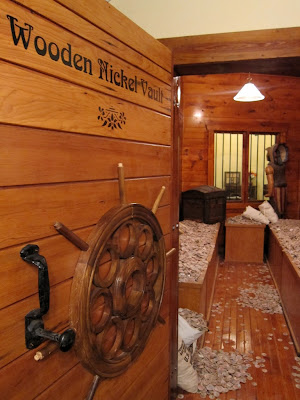 Needless to say, we spent more time inside than we intended, but it was great timing for arriving at Barney Smith's Toilet Seat Art Museum.
Just a few of the magazines/newspapers where Barney Smith has been featured.
1,002 toilet seats made over 90 years of life (and 72 years of marriage)...that's Barney Smith's hobby. He started when he was young and needed a place to mount the antlers of one of his hunting victims. He continued to use the medium to display other mounts until his inspiration grew.
The lid that started it all.
The Toilet Seat Art Museum and Barney have been featured on
Montel
and
The View
(among other shows). He showed us the clips as we arrived so as to help us understand the history of his museum.
Mr. Smith shows us a clip from The View, Montel, and The Morning Show.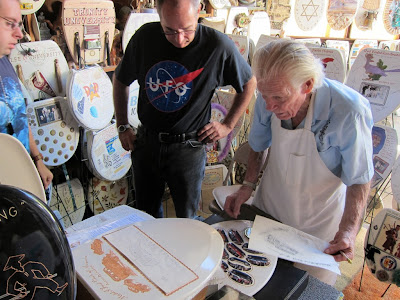 Barney Smith shows Wayland part of the process of creating a seat-work of art.
The artwork, memories, time, effort, and exploration that are stored in this small garage outside of Barney's home in a subdivision of San Antonio can't be easily measured. Sure you can count the seats (there are 1,002 toilet seats complete/in progress) and the number of visitors that have made a special trip to Barney's (he has a vast quantity of pages of signatures of the people who have visited the museum), but how can you measure the hours spent both creating art and talking about it? We spent an hour in Mr. Smith's garage...how much time have others spent there?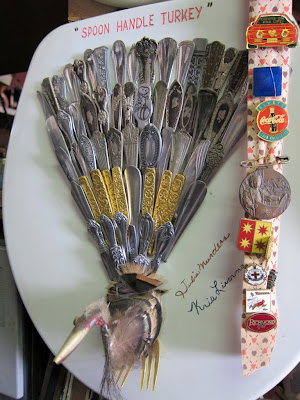 Happy Thanksgiving
Pogs and toilets, together at last.
An actual piece of The Challenger is on this seat.
Every time we walked through the pathways, we caught something new...something else I hadn't seen. There were sports lids, electronics, hobbies, art, collectibles, books, shows, movies, actors, animals, pogs/wooden nickels, countries, seats devoted to toys, trips, and Barney's wife...the list goes on and on.
The seat he made on August 27, 2010 to celebrate his wife and his 71st anniversary.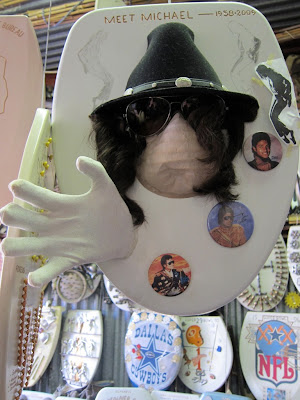 Goes hand and hand with the Wooden Nickel Museum.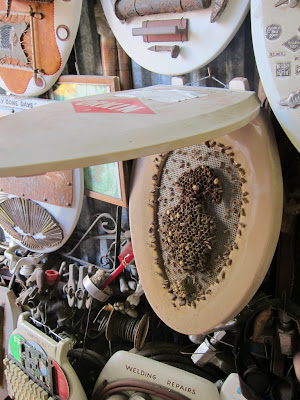 One of these bees stung poor Barney. He decided to do something about that.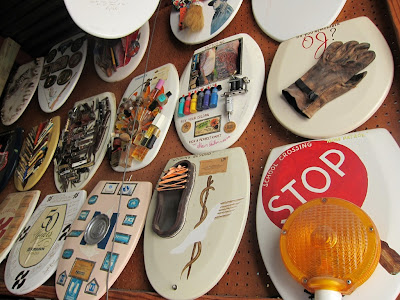 Barney Smith is quite the hospitable gentleman. His stories and passion are so very interesting to hear and observe. He expressed to us how his favorite toilet seat was the one titled
When Earth's Last Picture is Painted
. It is an homage to this poem that Barney Smith learned and memorized when he was a wee lad of seven years old. He recited it to us. I believe his voice changed when he performed the poem (still from memory)...you could tell how much he cared.
We were at Barney Smith's wonderful toilet seat art museum for over an hour before leaving. I hope to one day send him something he can add to a seat. He had small souvenir magnets available for a donation.
Another work in progress
Next up was the world's largest cowboy boots. These boots, dubbed Giant Justin's, were located in Washington DC back in 1979, but they moved to Texas in 1980. Located outside of a mall, these boots really are big...35 feet wide and 40 feet tall.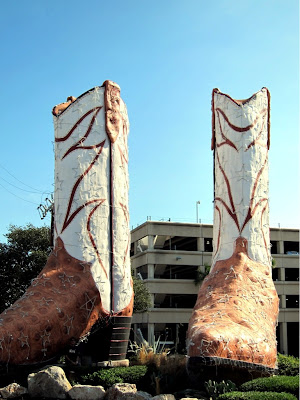 Adam and Terri found the boots very interesting.
After the mesmerizing boots, we were off to Lulu's Bakery and Cafe...home of the 3 pound cinnamon roll and huge chicken fried steak. Lulu's has been featured on the Food Network's
Man vs. Food
for good reason. The food is huge, reasonably priced, and so very tasty.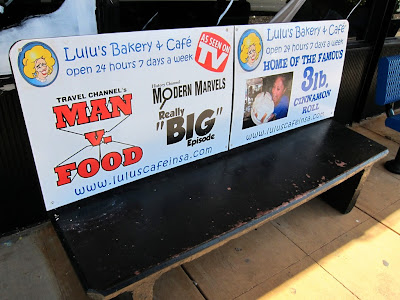 Me and the Lulu's 3 pound cinnamon roll featured on Man vs. Food.
The chicken fried steak didn't fit on the plate.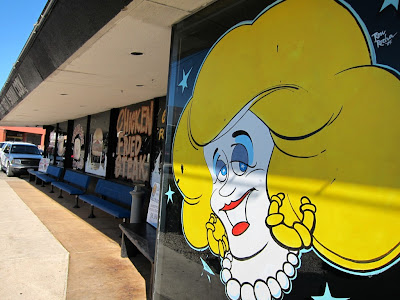 Outside of Lulu's
Outside of Lulu's..."Never trust a skinny cook."
After seriously overindulging, we were off to Sea World. We were able to find a coupon that allowed adults to pay child prices while getting a second day and unlimited eating free. We still paid a lot, but it's great to have the option to go back a second day.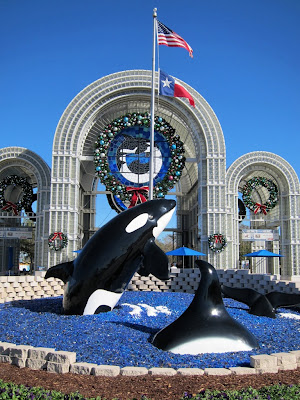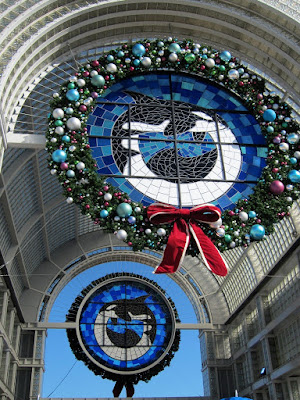 We were immediately off to roller coasters. The Steel Eel was up first. This is a serious coaster with a gigantic 15 foot drop and many other small drops to follow. The line was virtually nonexistent too!
Part of the Steel Eel
Next up...another awesome coaster. This time we were off to a hanging hypercoaster called the Great White. At speeds topping 50 mph with five 360 degree loops, we were in for a flying fun time. The coaster was quite dizzy-making, so we opted to go to the penguin exhibit afterward.
The Great White was blue.
The penguin exhibit had multiple types of penguins including some that hadn't molted yet. So neat! Nearby was the puffin exhibit.
See the fuzzy one?
This owl was a hoot.
Outside of the penguin exhibit were a bunch of snowmen with personalities. Wayland and I had to stop for a few photos.
Red eyed duck!
Adam felt as though we tortured him on the various coasters, so he made us promise to go on the water ride. Rio Loco is a ride that put us all in a giant circular raft to float down a river. I didn't particularly want to get wet (since I was wearing jeans), but Terri coerced me. Of everyone on the raft, Terri and I were the only ones to get soaked. Of course, the guys found this to be hilarious.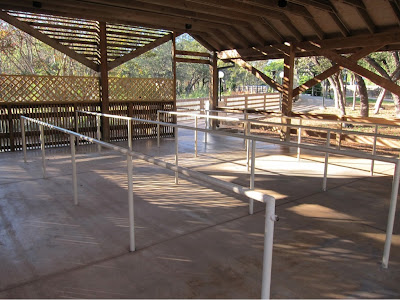 As you can tell, the lines were extremely long.
We got a bit wet.
Next on the agenda was a stop to see the dolphins perform. This was probably the best show of the day. Not only were the dolphins talented, so were the trainers, divers, synchronized swimmers, and aerialists.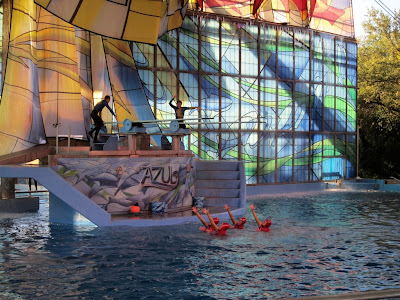 We were all a tad drier, so the guys went to get on Journey to Atlantis to get a bit more wet. They rode in the front row, so, unfortunately, they somehow didn't actually get any wetter.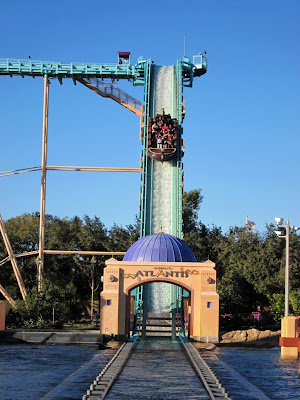 Journey to Atlantis
The rest of the day was spent viewing the sea lions, seals, and otters in their habitat and in a show (with their friend the walrus), using our wrist bands to get dinner and hot chocolate or soda, and at the whale show.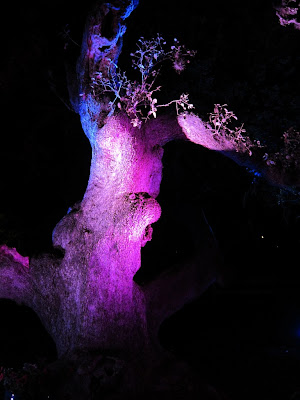 We thoroughly enjoyed our day.
- Posted using BlogPress from my iPad
Labels: blog, Lulu's, museum, Roadside America, San Antonio, Sea World, Texas, Toilet Seat Museum, travel, trip, USA, vacation, Wooden Nickel Museum