Monday, November 21, 2011
Yesterday we had our Trusted Traveler GOES interview. We arrived an hour early at IAH, but they accepted us right away. After a 10 minute movie, a few questions, verification of our passports and drivers licenses, and digital fingerprinting, we were on our way to Terri and Wayland's. Not even a half an hour later, and I was notified of approval. I guess the FBI doesn't consider me a danger to the United States. =)
With the GOES interview complete, we were able to embark on our journey today to San Antonio with Terri, Wayland, Adam, and Kaelin. We headed out about 9am, and our first stop was Buc-ee's in Luling. After our pit stop, we were off to Seguin, TX to view the world's largest mobile pecan and the world's second largest pecan.
Kaelin, Terri, Wayland, Adam, Kris, and Kristy (me) at the largest mobile pecan
The world's largest mobile pecan is actually located outside of a pecan factory. We purchased some provisions and then found out that just two miles over the river was a free admission Nutcracker Museum. They had well over a thousand nutcrackers. Such a neat collection! Wayland and Kaelin were party poopers and stayed in the car.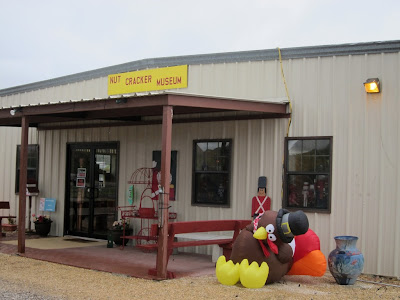 Adam at the Nutcracker Museum
  
There were so many nutcrackers!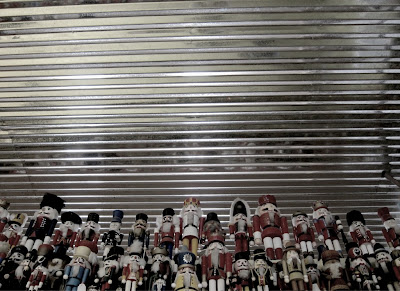 Seven Dwarves nutcrackers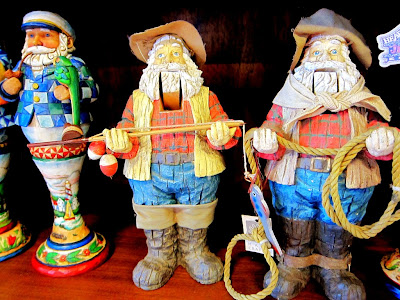 They had themed nutcrackers for every occasion.
After the Nutcracker museum, we headed to the world's
second
largest pecan. It used to be largest pecan, but a town in Missouri stole that honor.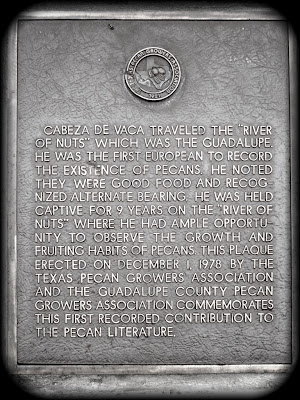 After leaving Seguin, I was able to finish the book I started this morning.
Thirteen Reasons Why
by Jay Asher is a great, tragic novel and really makes you think.
It didn't take long before we were checking in to the Comfort Suites on Live Oak. We threw our stuff in our room and were off to the Alamo.
Jesse and Robin met us all at the Alamo, and we were all off to the Riverwalk for dinner at Saltgrass.
This squirrel did not want us nearby.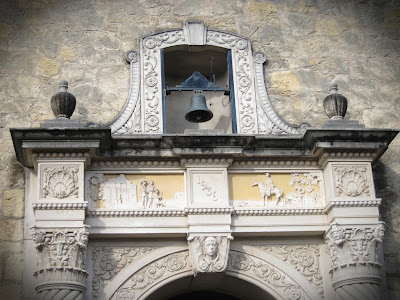 Adam, Terri, Kaelin, and Kris on the photogenic side of the Alamo...some random officer is also in the photo.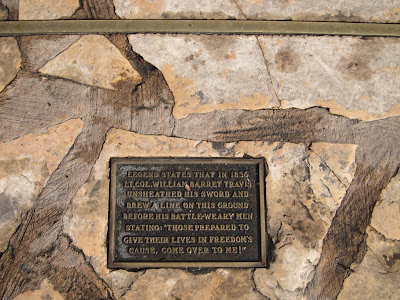 After dinner, the Mace family left for Austin while Kris, Terri, Adam, Wayland, and I walked the RiverWalk. We tramped the entire loop before heading back to the Alamo for some night shots.
Skitler enjoyed San Antonio too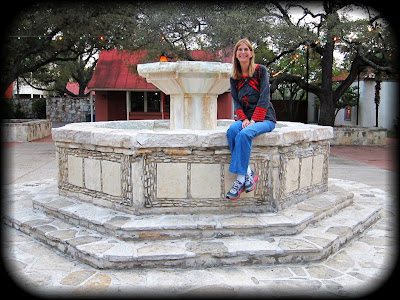 Terri on a fountain in the Riverwalk area.
Wayland tries to get the perfect photo of Terri and Adam on the Riverwalk.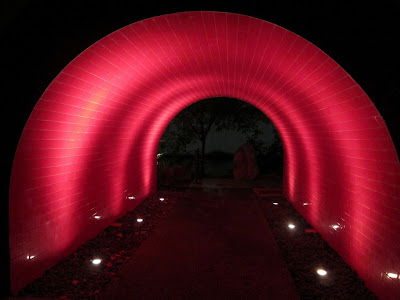 I loved this bridge.
Great lamp.
Reflection of the lit trees on the Riverwalk
The Alamo in the evening
Amy, a work friend, had highly recommended stopping by the Menger Hotel lobby to check out the historical displays. We stopped by to see some remarkable pieces and papers from the 1800s. The lobby was immaculately decorated. So pretty!
Entrance to the Menger Hotel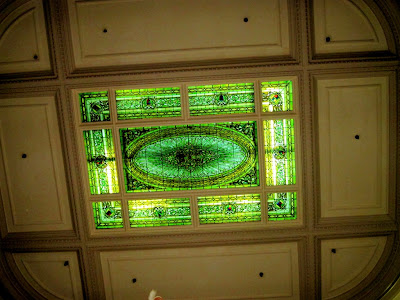 Stained glass ceiling at the Menger Hotel.
I caught Wayland being the stelth photographer.
Terri at the Menger Hotel
Underneath the highway by the hotel there is a nighttime light show.
We hit up Haagen Das before calling it a night.
- Posted using BlogPress from my iPad
Labels: Alamo, blog, Menger Hotel, museum, Roadside America, San Antonio, Skitler, Texas, travel, trip, USA, vacation