Tuesday, December 27, 2011
We woke up earlier than expected today but decided to embrace it and get along the road. First up, we had to find Kris a new pair of sunglasses or sunnies as the Kiwis call them (second ones lost of the trip - oops). Several gas stations later and he had a suitable pair.
First on the agenda was Fox Glacier and Lake Matheson. Lake Matheson is a large, mirror-like lake with great reflections of all of the great glaciers/mountains in the area. We opted only to complete the 40 minute walk for the initial reflections. Still, it was lovely to see the reflections of Fox Glacier and Mt. Cook & Mt. Tasman in the blue water. We ran into Benedict from the heli-hike while at Lake Matheson.
We had a very scenic drive today passing or passing through Bruce Bay, Lake Painga, Lake Moeraki, the Haast River, Mount Aspiring National Park, Lake Wanaka, and Lake Hawea.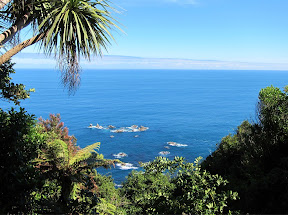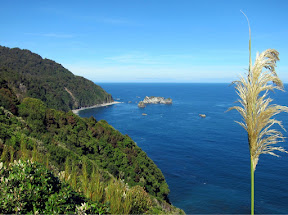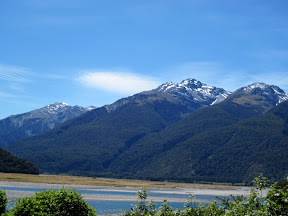 While in Mount Aspiring National Park, we stopped at three waterfalls (Roaring Billie Falls, Thunder Creek Falls, & Fantail Falls) and the Blue Pools (which had a seriously crazy swingbridge) and some nasty biting insects.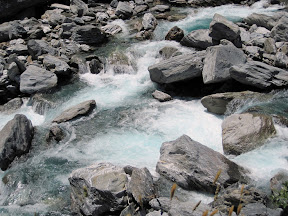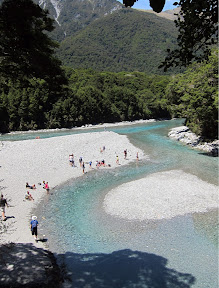 Have you ever seen such a lucky cow as the one below?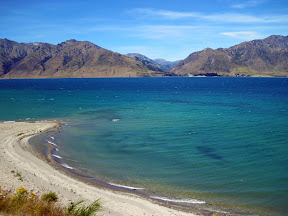 I lost count of how many times we ran into Benedict at these stops. He was on the Magic Bus, and they seemed to be following us. =)
When we got to Wanaka, we made a quick stop for a late lunch then headed to Puzzling World - a playground for Kris.
A Puzzling World is a land of puzzles and illusions. They call themselves the most puzzling place on the planet. A very reasonable admission price allowed us access to many attractions including:
*Hologram Hall with some incredible 3D holograms - we caught some men pretending to kiss the hologram of Marilyn Monroe
*The Roman Bathroom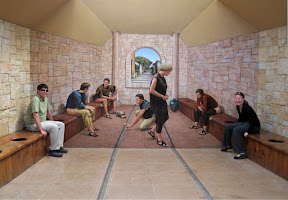 *Hall of Following Faces with 168 famous faces following our every move
*The Ames Illusion Room where the illusions of Giants and Dwarfs are created. They used this in the LOTR movies.
*The Tilted House where we saw water flow uphill and Kris traveled on a monorail that went from floor to ceiling
*The Great Maze where you choose one of two maze challenges to complete in 1.5 kilometers of maze. (Most people walk from 3-5 kilometers
in the maze.) We happened to run into Benedict again here.
Kris's start time...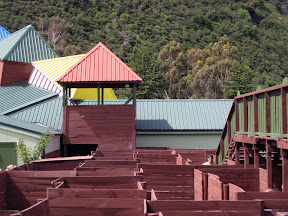 I left Kris to play and went back inside to play table games and browse the gift shop. Kris tried for the harder puzzle, but wound up having to just do the regular puzzle. The sun was directly overhead, and it was blasted hot. He did photograph his watch when he began and ended. He beat the average time for completing the easy puzzle.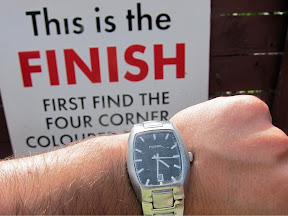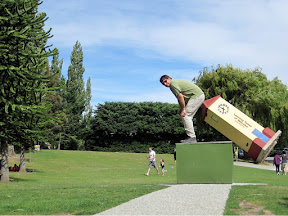 Our motel for the evening, the Archway Motels - Wanaka, was super close to Puzzling World. This was a really nice motel with good facilities. It seems to be family run, and I think a lot of skiers stay here. While not the newest in decor, they run a friendly, clean ship and gave us a small container of real milk with check-in. We purchased four hours of wifi for $8 and got decent reception from our room. They have a laundry facility with washer/dryer and ironing board/iron and small park area with trampoline. Every room has their own bbq grill and outdoor table/chairs. We were checked into a handicapped-accessible room with a queen bed and two singles. It was a large room with stove top, mini fridge/freezer, microwave, electric and stovetop kettle, and had pots/pans, silverware, dishes, cups, bottle and can openers, and etc. They really have thought of and provided most everything you would need for an extended stay.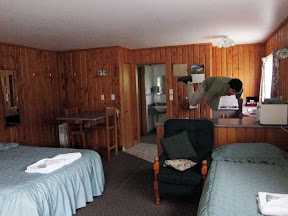 I was very comfortable at the Archway. While there was no air conditioning (heating only), you could open the windows. I liked the tall table just off the kitchen and the ample lighting. There were extra pillows and blankets provided, and everything was clean. I found the bed to be comfortable, but I think Kris found it soft. Regardless, there was a lot of space to move around and the television was playing entertaining movies (even if they only had three channels to pick from). We saw
The Social Network
while photo editing in bed.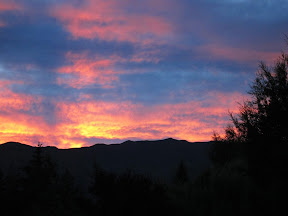 After doing two loads of laundry and hitting up the local Four Square grocery store, we cooked our own dinner of honey mustard stir-fry. All of the elements we used probably should not have worked together, but they did. We had cheesecake for dessert (and had more for breakfast the next morning along with the coffee/tea and sweetener provided by the motel). I picked up another package of Tim Tams too. I think I am eating my weight in Tim Tams. So tasty!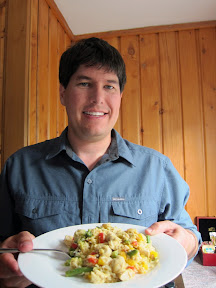 Wednesday, December 28, 2011
Our days are numbered, and I woke up depressed about it. Today didn't have much on the agenda. We were going to stop at Arrowtown after several recommendations by people we've met along the way. We were also going to stop at Queenstown to do the Skyline Gondola and Luge, and then we were off to Te Anau for the evening.
We were about to leave Wanaka, but they have this great little park by the waterfront with an amazing dinosaur slide...so we had to stop for photos. We found some of the playground equipment to be seriously fascinating.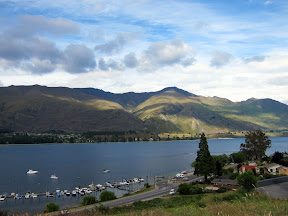 While driving along Highway 6, we passed through a town called Cardrona really close to Wanaka. It had three really neat old buildings from the era of the gold rush, and they had the best wildflowers. Acres and acres of these amazing wildflowers, called lupins were growing right next to the highway.
These flowers were tall and in various colors and shades of pink, purple, and white. (Probably other colors too.) We stopped to take photos. Kris said locals were probably wondering why tourists had stopped to photograph the weeds.
The Otago area we were driving in is known for their skiing, and the mountain roads we were traveling on had many pull-offs for putting on chains during snow.
Despite the tricky path, we made it safely to Arrowtown. We walked around this old gold rush town and saw old buildings, church, homes, and the old gaol.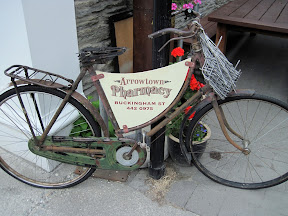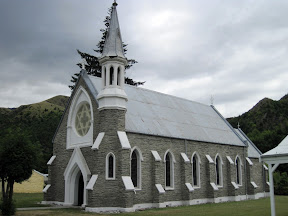 They had a bowling club with some humor.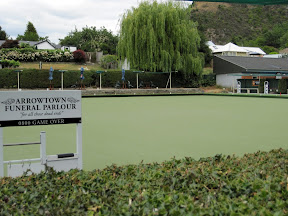 We had a nice lunch of fish and chips (Kris - like mother like son) and a cheeseburger from a tasty but inexpensive place called The Shed. I also got some very tasty cherries from a street vendor.
Back on the road, it didn't take long before we were in Queenstown. It may look like a small city on Google Maps, but it was bustling with activity. We weren't able to find parking, so we nixed the day's luge and gondola activity and kept along down the road to Te Anau.
I read multiple times on TripAdvisor that you should eat Miles Better Pies when in Te Anau. Unfortunately for us, they are a morning/lunch establishment. We got there right as they were closing, and they opened the shop at 6am...just a tad too late since our Milford Sound tour was starting at 5:45am.
Our accommodations for the evening was at the Te Anau Lakeview Holiday Park. Beware! This place, at least in the powered site block, was disgusting. I could not tell the last time the showers were cleaned. There were huge clumps of hair in the shower along with many dead insect carcasses. There were a bunch of live insects crawling along on the ceiling. Two of the toilet seats had poo smeared on the seat, and the kitchen was packed without room for our groceries in the fridge. And this was only 4pm! Definitely the grossest campground that I have ever given my patronage.
A bit of exploring later showed the amenities area near the unpowered block to be very different and seemingly clean. I don't understand why that was. I was also supposed to have an hour of free wifi, but you couldn't even find the network on our devices.
We walked around town a bit and got ice cream. I got hokey pokey ice cream. Kris got boysenberry After walking around town, we got dinner (and wifi) at the Fat Duck restaurant.
After setting up at camp, we walked down to the lake across the street. People were jumping into the water from the pier, and other people were parapenting.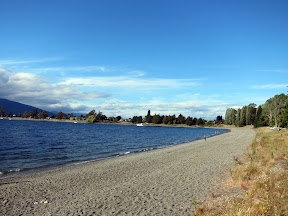 We called it a night early, and, while laying in the car, the ice cream truck stopped right outside of our car. I had to get a cone dipped in chocolate, right?
- Posted using BlogPress from my iPad