Friday, December 30, 2011
Our last day in New Zealand.
We had a rather interesting breakfast in an attempt to finish the assorted food we had left. We checked out at the very last second possible, and we went to return Rhesus. We gave our purchased towels, insect repellant,
The Alphabet Sisters
- a book I had enjoyed over the length of the trip -, paper towels, salt/pepper, and handiwipes to a couple who were just renting their Spaceship. They were from Canada. She said she'd pass along any of their leftovers too. She thought it was rather nice of us.
We walked from the Spaceship return center to the Gondola and Luge headquarters in Queenstown. We were supposed to do this a few days before. Parking had not been on our side. It worked out for us to do it the day we were leaving. Gave us something fun to do on our last day.
It was about a 1.1 km walk (according to the GPS), and Spaceships had been nice enough to let us keep our bags at their facility there.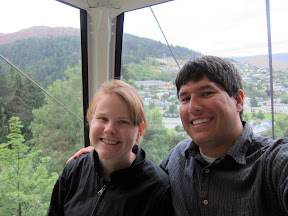 The gondolas at the Skyline Queenstown take you up high for lovely views of the city. You could also see people taking the plunge and bungee jumping.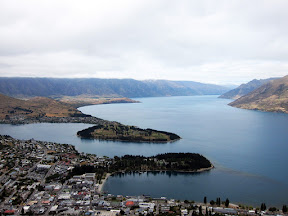 The water in the lake touching Queenstown was so blue and clear.
After getting off of the gondola, you still have to take a ski lift up to go on the luge. Kris and I both did the scenic track, and then Kris did the fast track. I ran uphill to get photos of him coming down the track. Man do I ever feel out of shape!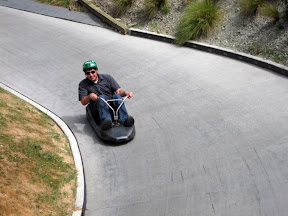 Going down in the gondola seemed to speed by.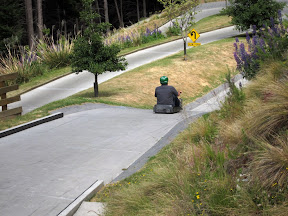 We walked a little while down into town, passed an amazing cemetery, and we immediately saw a taxi. We had him take us to get our bags and then take us to the airport.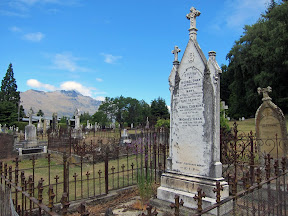 This was such a phenomenal trip, but I have managed to get sick again. Runny nose, terrible cough. Don't know if it is sinuses or something else.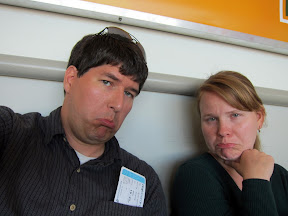 There was a couple hour wait before the plane from Queenstown to Auckland (we had to load the plane from outside).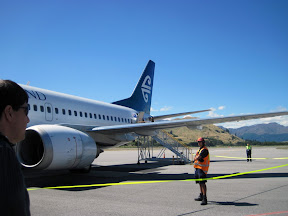 Then we had a four hour layover before the 12 hour flight to Los Angeles. Then we had a 2.5 hour layover before the 3.5 hour flight to Dallas.
While we just wanted to get on the plane, the airport kept telling us to relax.
New Zealand has interesting airport humor...
This was an awesome vacation. How will anywhere else ever be this spectacular? New Zealand has it all...beaches, mountains, rainforest, regular forest, lakes, snow, sun, fun, city, country, suburbia...the list goes on and on.
The only thing that they don't have that we have is reasonably priced soda. Dr. Pepper here I come!
Today we rode in a camper van, gondola, ski lift, luge, taxi, three planes, bus, and Kris's car.
Kris got these photos of Santa Catalina Island from the flight as it took off from LA.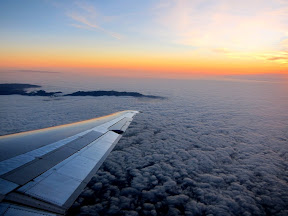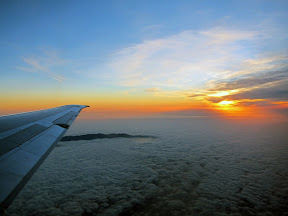 ***Global Entry Program Notes***
Before Kris and I left for this trip, we applied to be trusted travelers in the USA's Global Entry program. An online application, background check, $100, and a short interview where they verify your identity and get your photo and fingerprints, and we were approved.
My first experience with Global Entry was great. The line ahead of us was gigantic, as we were in the back of the plane on the flight from Auckland to Los Angeles. We got to skip the line and walk right over to the two kiosks on the wall. Put your passport in face up, smile for a photo, verify fingerprints, and declare any fruits/veg or purchases over $800 in value and voila! It prints a small card that you show to an agent on your way out. Would have been the most beautiful system if we didn't have to wait over 30 minutes for our baggage. After retrieving our bags, we got to skip yet another large line. Amazing!
In short, the Global Entry program worked supremely well. I just wish our bags were unloaded from the plane in a faster fashion.
- Posted using BlogPress from my iPad
Labels: Auckland, blog, Global Entry, New Zealand, North Island, Oceania, Queenstown, Skitler, South Island, Spaceship, travel, trip, Trusted Traveler, vacation