June 30th - July 2nd
Our 2011 summer travel story begins long before July 1st. In fact, the trip was almost a year in the making. Regardless, on June 30th, I worked a full day, then hurried home to Kris (my husband) so we could drive from Dallas to Houston.
Our flight was at 4pm on July 1st with KLM Airlines (my initials). Wayland (Kris's father) and Adam (Kris's brother) drove us to the airport after a homemade meal of fajitas. A few almost wrecks later, we made it to the airport with plenty of time to spare.
Adam enjoys lounging in the backseat on the way to the airport.
Kris, Terri (Kris's mother), and I made it through security without any real snafus. We had plenty of time to kill in the IAH airport while waiting for our flight. We made sure to get a few snacks and bottles of water for the flight. We also investigated the local landscape.
Nothing quite says Texas like a longhorn window display at the airport.
Our flight from IAH to Amsterdam was 9 hours, but the pilot got us there a tad early. The KLM flight, while squished, had a wonderful setup for personal entertainment during the flight. Every seat was given a personal tv and, with that tv, you could watch (on demand and without charge) your choice of tv, movies, and more. They also had some popular music to listen to and a language game you could play. I watched
The Lincoln Lawyer
,
HOP
, an episode of
The Big Bang Theory
, a small travel piece on the Netherlands, and listened to music. They also offered a variety of free newspapers for your reading pleasure.
Meals weren't too bad either. We got Chicken Parmesan for dinner and eggs, ham, and yogurt for breakfast.
We did our best to sleep...but it didn't really happen for us. After arriving in Amsterdam, we were quite shocked that we did not yet have to go through customs. Our luggage was sent on to Manchester without our having to retrieve it. It gave us four hours to explore the AMS airport, which is quite nice. There were stores, restaurants, places to get a massage while you wait, oxygen bars, a free library, cozy spots to sit, and even a free mini museum.
Terri and I even got a free amazing piece of chocolate from a chocolate shop which had chef rolling Godiva truffles in milk chocolate before rolling them in a vat of nuts. It was heavenly.
Signage at the AMS Airport
Our flight to Manchester was interesting. We had to go through a quick security check again, then hopped on a bus to charter us to our small plane. We then climbed the stairs to board the plane. This was a super quick flight...less than an hour...and very comfortable. They gave us cookies and a beverage.
We finally make it into Manchester, go through customs without any issues, and get our rental car.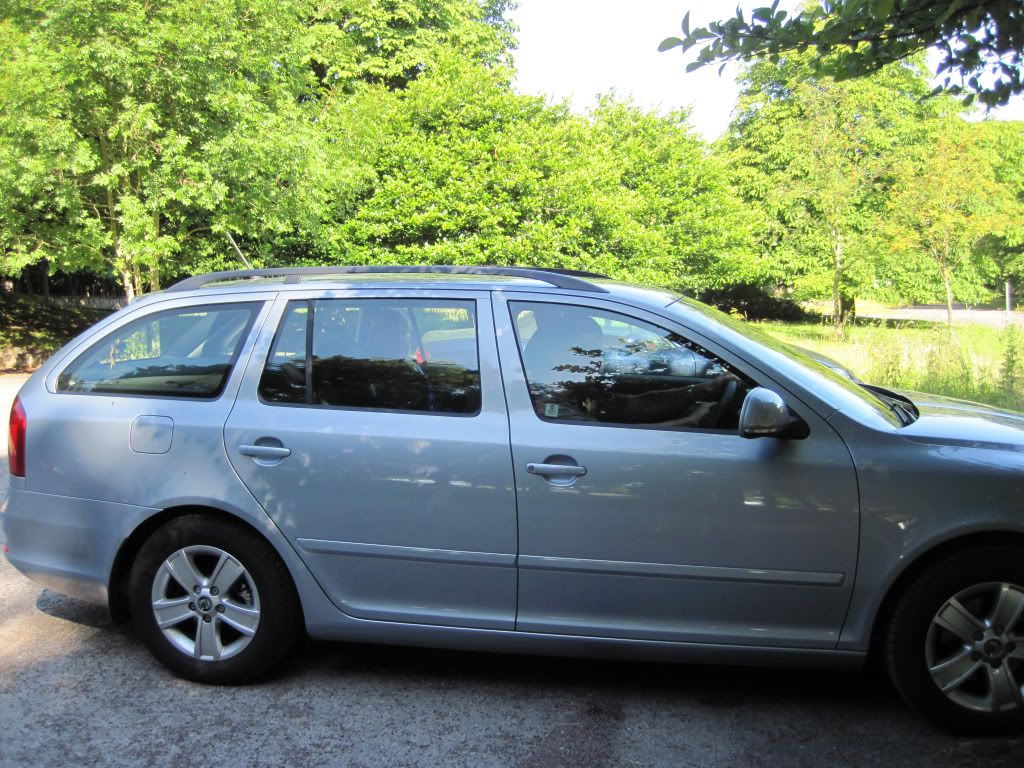 Our Skoba had great storage, but it was a strange car.
Kris immediately has to learn how to drive on the wrong side of the car and the wrong side of traffic right into not one, not two, but three immediate round-abouts. Poor guy is a trooper. There was no rest for the weary as we made our way down to the Albert Dock to go to the Beatles Story Experience.
The Albert Dock
We had to figure out parking, and wound up parking at the Liverpool One mall.
This sign just cracked me up.
We went to the Beatles Story, walked around the waterfront, grabbed sandwiches from a food truck, and saw a quick Beatles movie in 4D and more of the exhibit.
Terri poses with a Beatles display.
We then walked to Matthew Street to see the Cavern Club. Kris was hassled by a British police officer who made fun of him for carrying a map. We found the Cavern Club and John Lennon statue though.
Kris at the Cavern Club
We found our car and was then off to see Penny Lane. We almost missed it.
Kris driving along Penny Lane
We also saw the childhood homes of John (though I didn't get a photo), but I did get a photo of the Shelter in the middle of the roundabout and the barbershop.
Shelter in the middle of the roundabout - apparently it has been a bus shelter, public toilet, and the Sgt. Pepper's Bistro. It is currently closed.
Our final stop before heading to our hotel was the Yellow Submarine at the Liverpool airport.
We then checked into the Holiday Inn Express Liverpool which has comfortable beds but no air conditioning or fans. Also, our sleep schedule is all messed up. I am writing this at 4 am after already sleeping away the night. It is light outside. I am all messed up. Regardless, that will sort itself out. The good news is...we are here!
To be continued...
- Posted using BlogPress from my iPad