July 23rd, 2011
Today, we were off on an excursion to Bruges, Belgium. Remco was our driver and Jackie was our guide with Keytours Excursions.
Terri and I used the iPad to stay amused on the ride.
Bruges was amazing!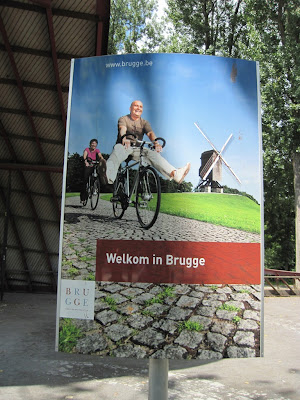 We learned that the name Amsterdam comes from the Amster River. Three hours in a bus later, we arrived at Bruges (Brugge), Belgium.
Bruges is beautiful - oh wait, I said that already. I just can't get over it.
Our tour director told us a bit about the town in the bus, but we were free to venture - map in hand - as soon as we were off of the bus.
Kris took the role of navigator and almost immediately took us to a convent. I don't know if Terri thought he was trying to get rid of us...but I sure did. Too bad for him...he's stuck with us both.
Quiet area
The Monastery in Bruges
We really enjoyed exploring the town.
Hidden surprises are everywhere if you are willing to look.
They have interesting and intricate fountains.
Others may think we're crazy, but we did not bother to pay attention to what things were in this town. I can't tell you the name of buildings, we didn't go to museums, we just wandered around and enjoyed.
The canals, buildings, people, shops, and parks were fabulous. The prices were so very reasonable. The town was perfect for us. I so wish I had more time there.
Based on the statues, the people of Bruges seem to have a great sense of humor.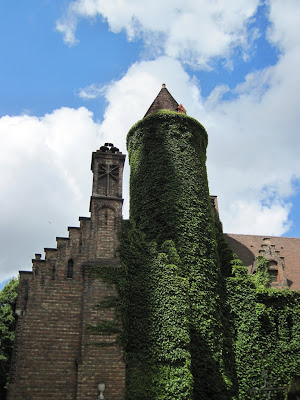 Some stores tried to sell adult or children surprises. (I found this a bit strange.) We saw little surprises attached to walls in town too.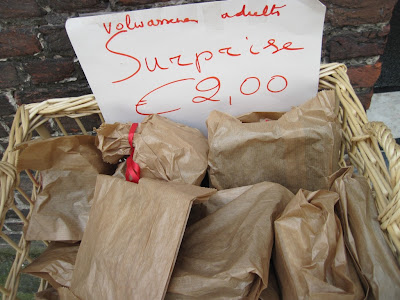 Adult surprise at a Bruges store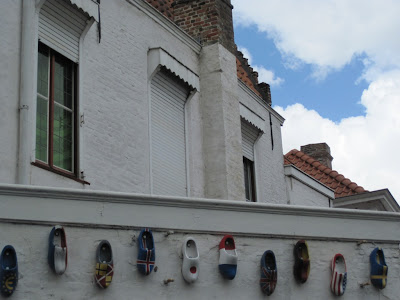 I adored this wall of clogs painted with the flags of every nation.
We had incredible waffles for lunch loaded with fruit, chocolate, caramel, nuts, and/or whipped cream. We had lovely weather (low 70s) and a reprieve from the rain.
The waffle restaurant had a very interesting toilet.
Terri got her charm and her lace from a little shop called Claeys that rescued antique lace and repurposed it in pendants.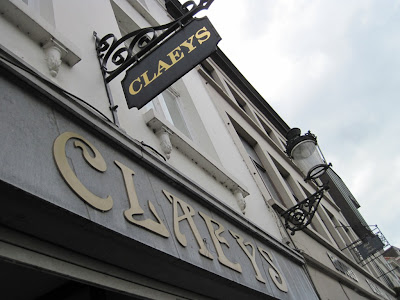 We also saw an impressive older lady making lace.
We saw old men playing a rousing game of bocce and found a kissing statue.
Bocce
Another interesting statue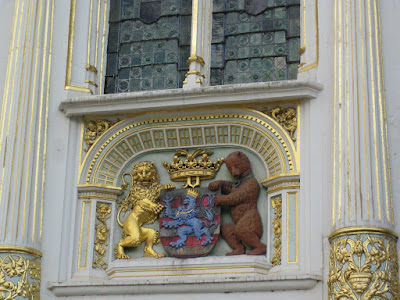 Terri tended to strip down before taking photos this trip...I caught her stuck in the act today.
Terri can't seem to get her sweater off.
We wandered into a park and found a free concert. Natives were playing the bells. It was wonderful! One of my favorite memories from this trip.
The Bells truck
Fountain the park where the bells concert was held.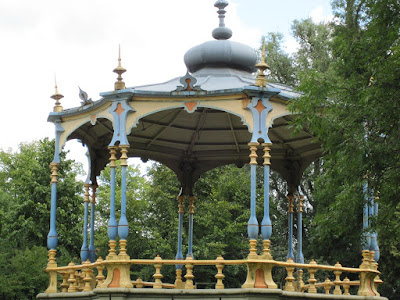 Gazebo in the park where the local bells concert was held.
Crowd of locals listening to the bells concert.
Church next to the courtyard where the bells concert was held.
On our trip back to the center of town, we peeked in a few places the locals are usually the only ones to see.
The Buddhist garden inspired Terri to dance.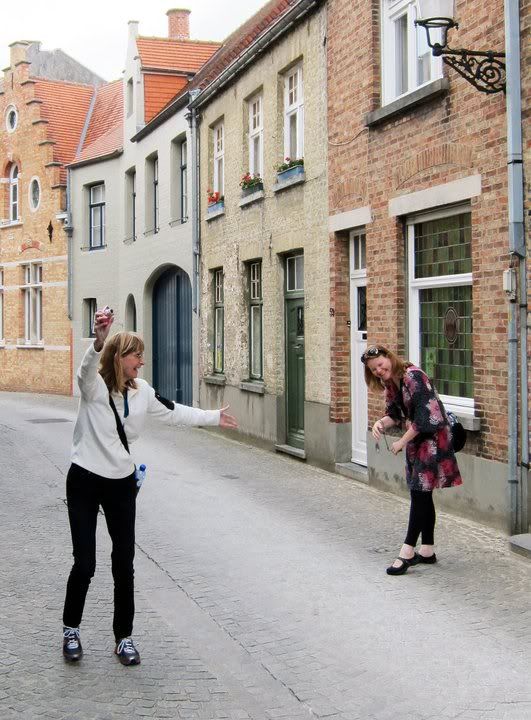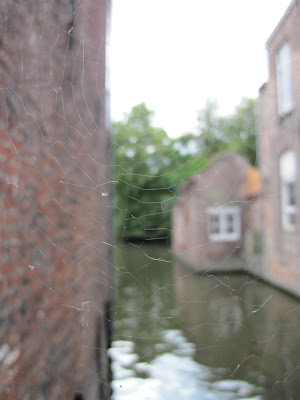 Spiders enjoy the canals too.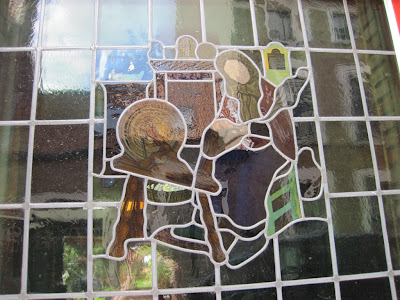 Stained glass on a tailor's window.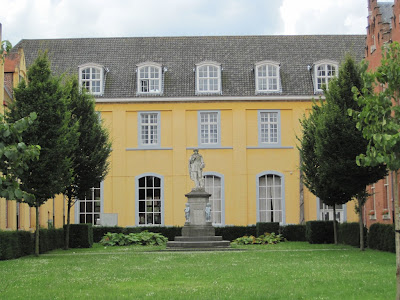 We made sure to stop for pastries for dinner at Brood-Banket (amazing taste and prices) and spent a load on Belgium chocolates.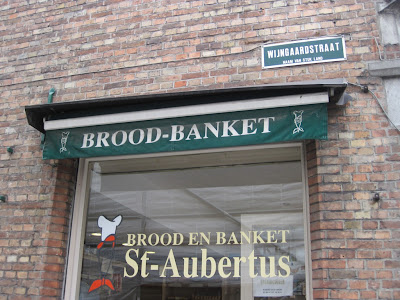 The bus ride was a beating, but I would go back to Bruges in a heartbeat. It's a place you should go and get lost for a minimum of a few days. It is lovely!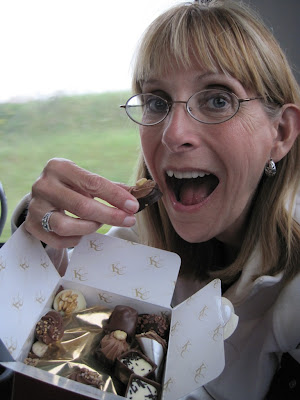 To be continued...
- Posted using BlogPress from my iPad