July 21st, 2011
We had a late departure off of the cruise ship this morning. We saw Kris, Spencer, and Troy in the breakfast buffet and found out we'd all be at the same hotel. We also saw Carol, Clark, Lisa, and Brad and said our goodbyes. Hopefully we'll do another trip one day.
After getting off of the boat, we were shocked that we didn't have to go through customs at all...no declarations...no identity checks...no questions. Crazy!
We didn't want to wait in the long line for a taxi, so we wheeled our luggage a long way to the closest train station. We took the train one stop to Osterport, where we were able to get on a Regional train to Orestad (which was within easy walking distance of our hotel - the Crowne Plaza Copenhagen Towers).
It was cold, windy, and rainy when we arrived, but getting to the hotel and checked in was very easy. We were given a room on the 17th floor.
After checking in, we decided to go to Dragoer. We didn't research enough, however, and we wound up walking the wrong direction. After turning around, we decided to grab lunch in the mall (Fields) food court. After lunch, we grabbed soda from a local grocery store and went back to the room to try to figure out the correct way to Dragoer.
While in the hotel lobby pulling up maps on Kris's laptop, Troy, Kris, and Spencer Copeland show up. We all chat for a while and then tell them our plans and invite them along. They decide to join us. We walk back to the Orestad train station, go one stop to Tarnby, then get on the 350S bus to Dragoer (which is the last two stops on the line).
Dragoer is a small little fishing village in Denmark, and I loved it. Even though it was drizzling, it was quaint and friendly. Terri was freezing all day long though. The Copelands seemed to enjoy it too - and they are a fun bunch to be around so it only added to our day.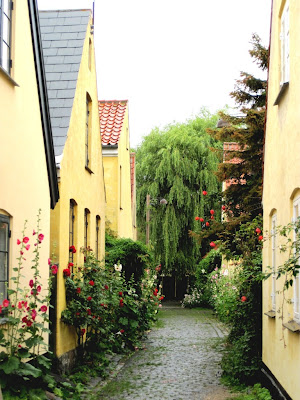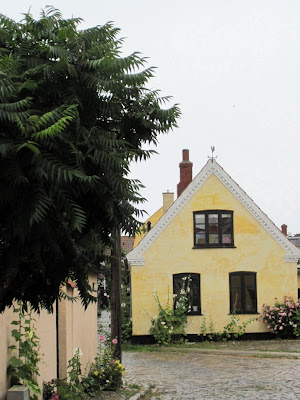 I sort of conquered my fear of bees long enough to take this photo. Check out the pollen.
Pumped a bit of water since we weren't wet enough.
When the rain got heavier, we stopped for hot chocolate and coffee at the Dragor Strandhotel. Then, lo and behold, Kris (Copeland) goes, "Is that Lisa?"
Sure enough...Lisa, Brad, Carol, and Clark were all at Dragoer too.
After a good chat, they were off to have ice cream, and The Copelands and McCoys went off to explore the docks and the rest of the town.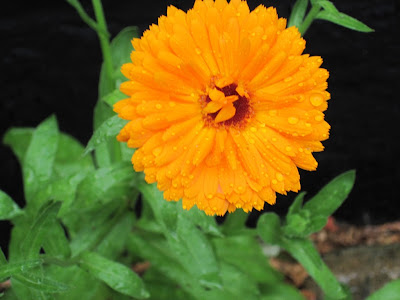 We thought we were in trouble, however, when the locals started walking past in lifejackets and galoshes.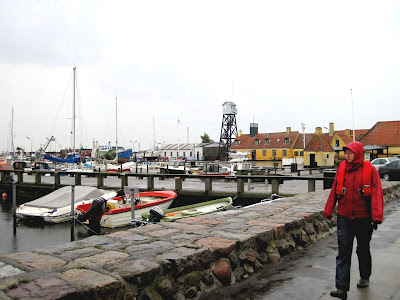 We saw a water mine, war ship, an offensive toilet, and the bridge to Sweden.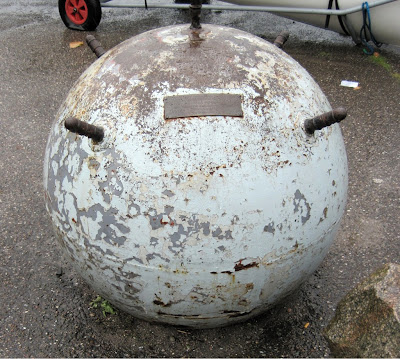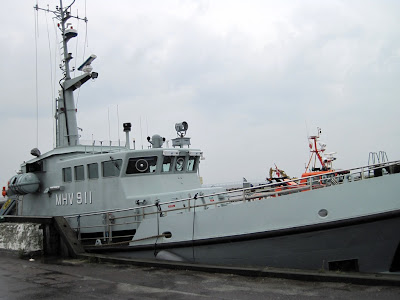 It was getting late, so we started going back to the bus stop. We all had to stop for some amazing Danish pastries at a place called Kongevejens Bageri first though.
After devouring them, we were back on the 350S bus, then train, then back to the hotel for a nice dry night inside.
July 22nd, 2011
The 22nd, my mother's birthday, was travel day. We slept in, had pastries from the local mall, and explored the mall.
The hotel provided an awesome shuttle to the airport with a very pleasant driver. We were surprised to find a really quick check-in at the Copenhagen airport with no customs checks and no declarations. Super easy security too.
Surely they'd check at Amsterdam then when we arrive? Nope. No checks, no customs, no declarations...it is seriously easier to travel from country to country here than to fly from Texas to Colorado!
The only checks we've had were for our arrival from the States to Manchester, England, a quick passport check at Kiel, Germany, and a lengthy few passport/visa/declarations check at St. Petersburg, Russia. The Scandinavian countries rather like us, I suppose. Super easy.
*Adjusted this for Amsterdam Schipol departure back to the USA. We got the Schipol without a problem, but lines are everywhere and you don't know where to go in Terminal 3. We ask an attendant if we have to stand in the line for one of the machines (thinking it was check-in). She says yes, but it is a visa machine for non-USA citizens. So off to the actual check-in machine, which causes no problems, but now we have to go to baggage drop. There isn't a single line at baggage drop though...there are a bunch and it is a free for all. We shouldn't have bothered to get in line at all. We chose our line poorly, and a lot of people who came in after us passed us by. In fact, we were always last, and we hadn't even been waited on and there was a completely empty line near us. Kris moved us over there, but we thought we'd never get through. Then, at the gate...we all got a good old American rub down. (The USA requires it of all passengers. Fun.) Bad check-in experience, but the KLM airflight was really good. Love the personal on-demand movie system.
To be continued...
- Posted using BlogPress from my iPad