Wednesday, June 10, 2009
The Quest for the Unfindable


Today,
Kris
and I awoke and readied in haste to get me off to the airport before he went to work. I was heading at 10:10 to
Minneapolis, Minnesota
to see my friend, Britney.
The airport was uneventful except for the fact that I did not hear that they had changed the gate of my departure. Imagine my surprise whenever I heard that a flight to
New Jersey
was loading at the gate I was supposed to be using. I had to hurry up and find out where my new gate was, and, although the worrywart in my freaked out (yes – I am a freaky freak-outerson), I made it in time to load.
I sat next to a pleasant lady – a new college graduate looking for a place to live for her new job. We did not really have any turbulence, which I am quite grateful for as I have heard
Texas
had terrible storms today.
I got off the plane and found Britney waiting for me at the baggage claim – or she found me. Then we were off to find her car. While finding the car was a bit of a quest, we eventually located it.
We had a nice lunch, chat, and then headed off for The Quest for the Unfindable. Quest #1 = a decent, reasonably priced pedicure. Quest #2 = a small, cute stuffed animal.


The Quests remain undone.
We watched So You Think You Can Dance and Revolutionary Road.
Thursday, June 11, 2009
Britney woke me up and we resumed our Quests for the Unfindable. We went to a cute gift/floral store called Bachman's and stayed a while. We also went to a great, quirky little place called Patina. We found the unfindable…Britney and I both found adorable stuffed animals for our animal albums. We're taking a cue from Laura.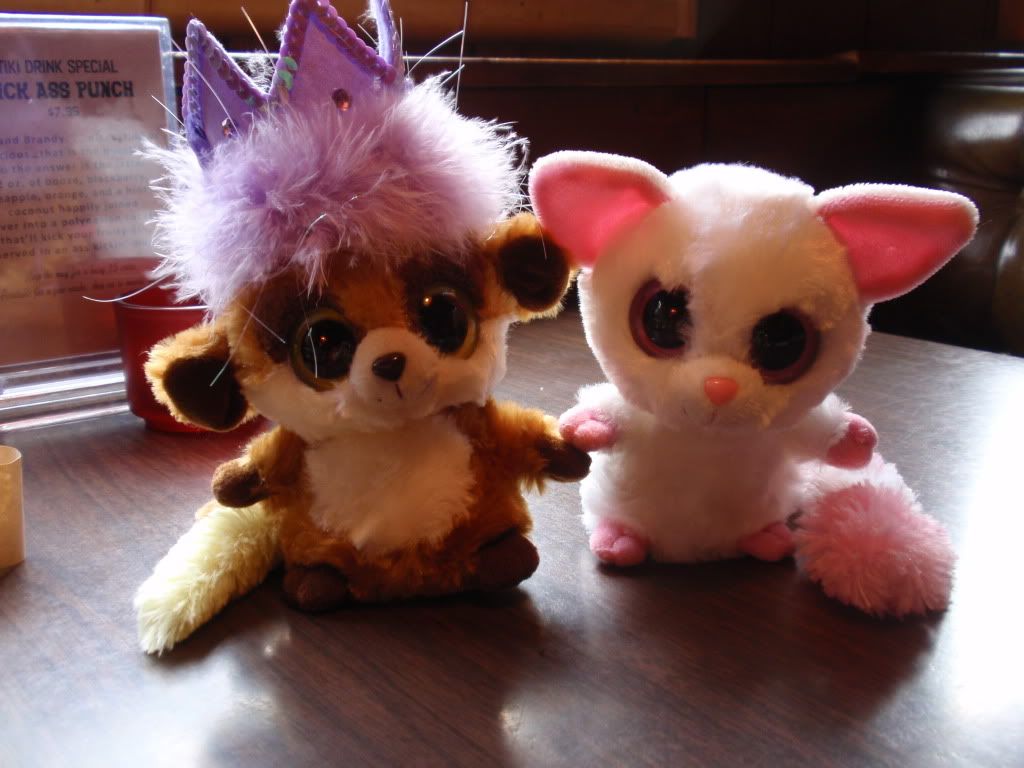 Kasey and Skitler
We also went to Psycho Suzie's for lunch and ordered a trio of appetizers before hitting
Minnehaha
Park
to see
Minnehaha
Falls
, which was the inspiration of the poem "Song for
Hiawatha
" by
Longfellow
. We explored the park a bit too.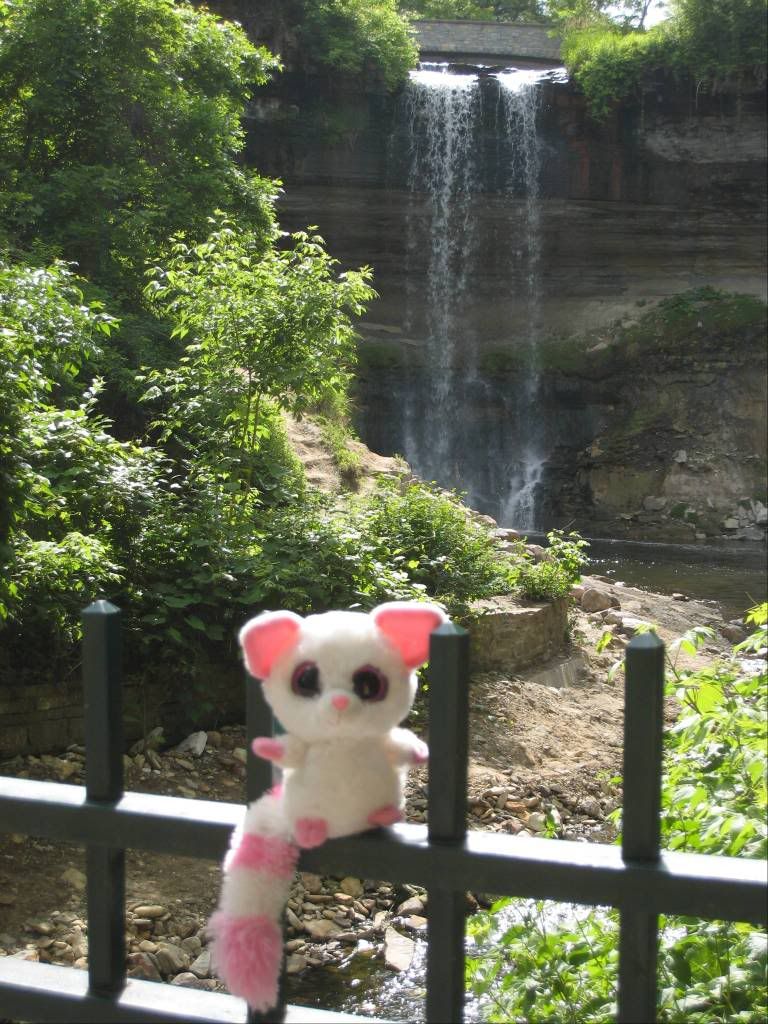 We came back to Britney's before heading out to the
Canterbury
Park
to participate in $1 Night at the horse races.
Britney and I went to the Mall of America and spent a good six hours there before coming back to her place and ordering a pizza. We snacked on pizza and cheesecake while watching Bedtime Stories. It was a good day.
Saturday, June 13, 2009
Saturday was jam-packed. We walked a lot - down
Hennepin
to the
Sculpture
Garden
stopping at many shops, book stores, and the Tea Garden, back up
Hennepin
to
Lake Street
, then up Lyndale to 31
st
and Dupont. The
Sculpture
Garden
is where the landmark
Minnesota
cherry and spoon sculpture is located.
We later went and ate dinner at
Mickey
's Diner in
St. Paul
, which is a famous retro place which has been featured on Food Network, in The Smithsonian, National Geographic, Sports Illustrated, Easy Rider, Playboy and Elle magazines. The Mighty Ducks I, II, III, Jingle All the Way and A Prairie Home Companion movies contain scenes that were shot on location at
Mickey
's.
http://www.mickeysdiningcar.com/
.
After a really delicious dinner of breakfast (two eggs over easy with English muffins, hash browns, and a hamburger patty), we went to the
Capitol
Building
in
St. Paul
.
Sunday, June 14, 2009
Britney and I went to
Patrick
's Bakery for lunch. Then we headed to an indoor park with a waterfall, a park with bird sanctuary, another bird sanctuary/botanic garden before heading downtown to the
Stone
Arch
Bridge
,
St.
Anthony
's Waterfall, the old mill factories, and to the
Mary
Tyler
Moore
statue.
Later that evening, we watched
The Pursuit of Happyness
followed by
Last Chance Harvey
and
Twilight
.
Monday, June 15, 2009
Britney and I cleaned up her apartment a bit before heading out to Wasabi for lunch. I got hibachi chicken. She got sushi. One of her items came with flames. It was called a volcano roll. All of the food was quite good.


After lunch we headed to the library so I could print my boarding pass and then to the Midtown Global Market. We were able to procure some oddities at the market like a
Chile
covered watermelon lollypop for
Kris
. I hit a Scandinavian food and gift store called
Café
Finspang
. I got a wonderful dessert called a
Sara
Bernard
. It was quite possibly the best dessert I have ever eaten. I went back and bought another! What is it you might ask...a multi-bite treat that has double boiled chocolate mousse on top of an almond cookie with a dark chocolate coating. Seriously heaven.
Afterwards we were off for the airport where this trip write-up ends. Fun times!